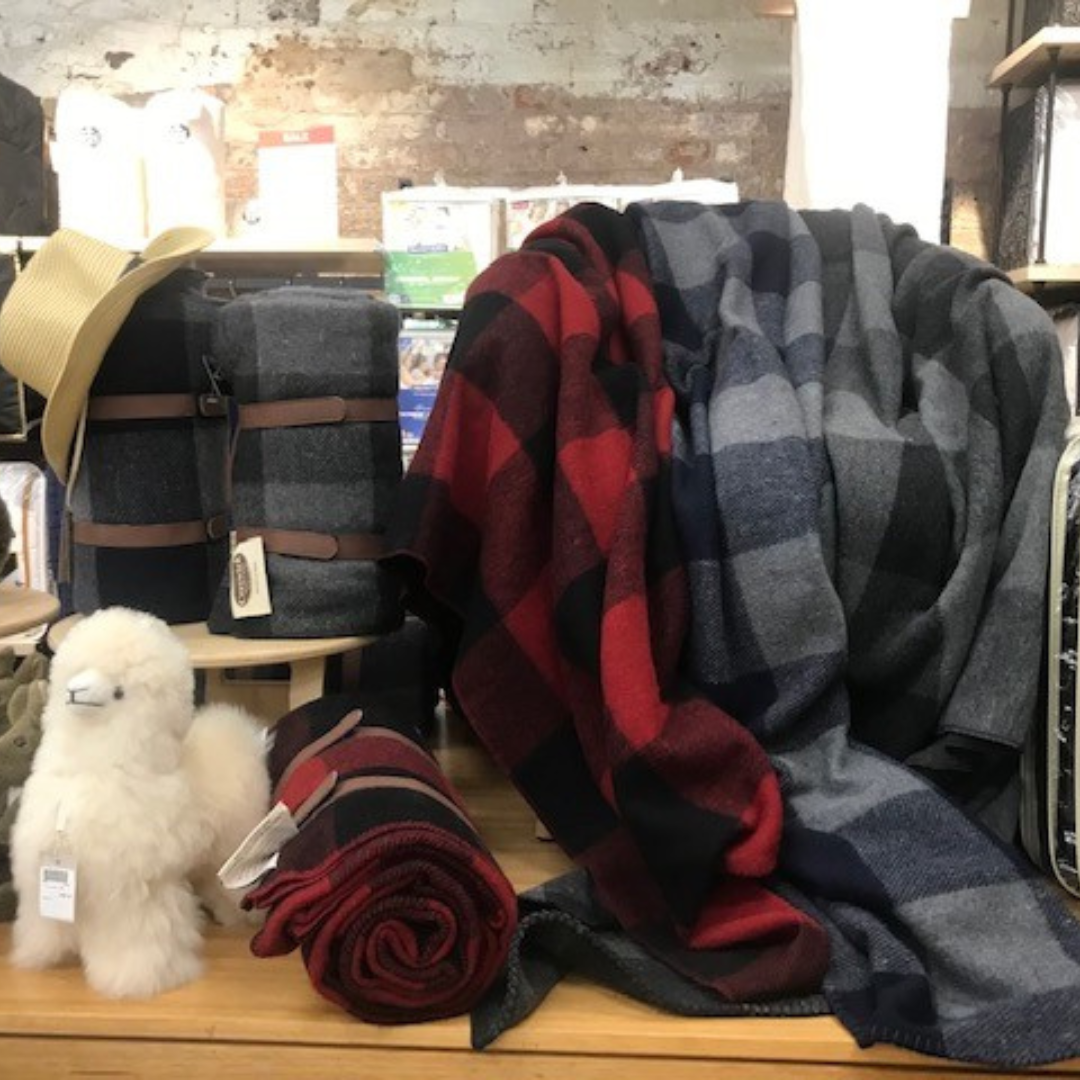 Creswick Mill
Monday
10:00am - 5:00pm
Tuesday
10:00am - 5:00pm
Wednesday
10:00am - 5:00pm
Thursday
10:00am - 5:00pm
Friday
10:00am - 5:00pm
Saturday
10:00am - 5:00pm
Sunday
10:00am - 5:00pm
Railway Parade
3363
Australia
Location
Creswick Mill
Anyone who makes the effort to venture out to our award-winning Creswick Woollen Mills is in for a treat! This is where it all started for our family business, and it is Australia's last coloured woollen spinning mill.
Visit our Creswick Woollen Mill shop which is home to an extensive range of products made from premium quality alpaca, possum fur and bamboo. We have everything from luxurious bedding and homewares to incredibly cosy clothing for men and women. Why not turn it into a full day experience by embracing everything that the beautiful Creswick has to offer!
Take a stroll with Creswick farmer Amanda to get up close and personal with our local friendly alpacas, sheep and goats at the animal enclosure; you can even feed them yourself! Then stay for lunch or a scrumptious afternoon tea or coffee at our newly renovated Café.
Shopping at the Creswick woollen mills store is a truly memorable experience
A UNIQUE SHOPPING EXPERIENCE LIKE NO OTHER
For a unique shopping experience like no other, pay a visit to our Creswick woollen mills factory shop – not only are you browsing an excellent range of sustainable, eco-friendly products made with high quality materials, but you can see for yourself how it all gets made!
"A Very Fine Yarn" is our interactive exhibition to showcase the incredible process natural fibres go through, and the complete history of the mill. We also have a delicious cafe where you can dig into some mouth-watering, locally sourced produce after you've had enough of shopping.
OUR STAFF
Cass, Store Manager
Cass is the Retail Store Manager at Creswick Woollen Mills. Working at the Mill is very diverse and no day is the same, which Cass thrives on. Cass is passionate about the history of Creswick Woollen Mills and the incredible selection of products Creswick sells.
Cass loves chatting with Creswick's diverse customers - whether they are international travellers, Aussies passing through in their caravans or very loyal local customers, they are always up for a chat. And not to forget Creswick's animals…every morning begins with a greeting by the Creswick team of animals; alpacas, lambs, sheep and the very cheeky goats!
ABOUT THE TOWN – CRESWICK
Admire the architecture of Creswick's broad, elegantly curved main street, studded with buildings that owe their existence to the gold rush town's heyday.
Originally inhabited by the Indigenous Dja Dja Wurrung people, Creswick grew rapidly during the gold rush years and later became the birthplace of reforestation and home to the school of forestry in Victoria.
Get a glimpse of the town's rich history on a stroll past the old Masonic Lodge, State Savings Bank, Creswick Library and Post Office. For a closer look, spend a few quiet hours delving into the local folklore at the Creswick Museum.
Explore the places of interest relating to Creswick's famous son, noted artist Norman Lindsay. Pay attention to the progress of the Magic Pudding Playground, based around the characters and events of Lindsay's The Magic Pudding book and a delight for kids and adults alike.
Work on your swing with a round or two at the RACV Goldfields Resort 18-hole course, designed by Tony Cashmore.
Aside from all these local attractions, Creswick is a wonderful place to spend the day purely to experience the laid-back atmosphere and Gold Rush-era vibe of the town.
Email us:

Email us for general queries, including marketing and partnership opportunities.

Call us:

Call us to speak to a member of our team. We are always happy to help.

Support

Check out helpful resources and

FAQs